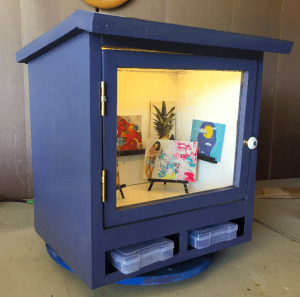 I have wanted a little library for years. You know the small boxes on a pole, in people's front yards, where you can offer books for the neighborhood to take or leave. On my morning walks, I pass beautiful mini-libraries. On my afternoon walk, I pass another 3. I have my favorites based on size, design and color. They all bring a smile to my face each time I see them. I love them.
Then, over Winter Break, I saw an article in the newspaper about one with a special twist. Instead of a free little library, it was a free little gallery. Take art or leave art. How brilliant is that? I read the article over and over, studying the pictures that accompanied it and my years of desire suddenly turned into action. I immediately sent the article to my dad.
Let me pause and tell you my dad is a master craftsman. He can build anything. For fun, he makes bird houses and mini decorative houses and has remodeled his house many times, all with his own hands and self-taught. Right away, he was on board to help me make this desire into a reality. He quickly drew up plans with dimensions. On my morning and afternoon walks, I carried my tape measure with paper and pencil to measure my favorite little libraries that I thought would match the size of a gallery. I sent them to him and we went back and forth until we landed on dimensions that we thought would work. He then went to work, buying wood, sawing, sanding, nailing, gluing. In the middle of the day, I received periodic photos of the progress. Walls and roof in place. Windows going in. Possible sources of lighting? Paint color choices? Each new photo and conversation brought more joy and excitement.
Alas, the gallery was fitted with shelves to prop up the art and a few standing easels. I have ordered some preschool toy people to act as gallery visitors admiring the art. The last message from my dad let me know, "The Gallery is Open for Business," My dad is in LA and I am in SF, so next week, Spring Break and after my 2 weeks of vaccine antibody production, I will head down to see him and pick up the gallery and bring her home. My daily writing will switch to daily art creation. Time to start using that art degree again. I don't know how often art pieces will come and go as the neighborhood begins to interact with it, so I will make enough to get the gallery off the ground. Thank You Dad for making this wish come real! You are truly the best! I can't wait to see what happens next.